Lovelies,
It turns out February's been rough on my blog. I started a crazy
challenge
to write a novel -- 50,000 words -- in 30 days. My brother and two sisters are in on the madness too. I've just passed 23,000 words: 15 days and 27,000 words to go. I've always wanted to write a novel and even though this one is, well, craptastic, I'm thrilled to finally be getting something down. (Plus, once it's done I plan to start referring to myself in third person as "The Novelist." As in, "The Novelist requires breakfast in bed" and "The Novelist is too busy writing A Novel to do laundry this week.")
Although it's taken a toll on my blogging. Sorry about that. Words are pretty much leaking out my ears by the end of the day and they won't seem to stay on the computer screen.
I sure am thinking about books, though.
These book cover
postcards
are fantastic.
I covet this anthropologie book
wallpaper
. I'd love to have it line the walls and ceiling of a reading nook. I'd love to have a reading nook. And while we're at it, how about a pony?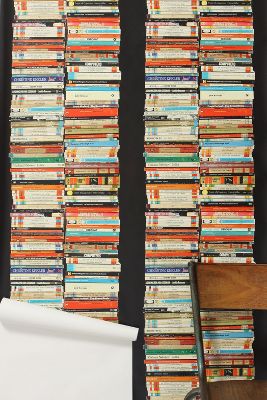 Here's a lovely book
box
to hide treasures in.
And, for reading, a new
favorite
: